Product
How payments can improve the dining experience at restaurants.
---
Experience remains top of mind when customers choose a restaurant to dine at. Discover how SeerBit payment solutions can help you improve the customer experience across all touch points at your restaurant.
The dining experience at a restaurant is much more than just the food, the ambience, or the menu. Customer satisfaction with their dining experience can be greatly impacted by the way payments are collected.
The COVID-19 pandemic has resulted in significant changes in customer behaviours as more people use digital payment options like bank transfers, P2P apps, and cryptocurrency to make everyday payments. The restaurant industry has had to adopt solutions like tabletop devices for taking orders, self-service kiosks, and scanning QR codes to read restaurant menus. However, the majority of payment experiences haven't evolved to reflect customer preferences.
In a time when competition in the restaurant industry is fierce, what payment solutions can restaurant owners leverage for improved customer experience?

Payment Solutions for Restaurants
Whether customers are eating in, placing an order online, or using an app, restaurants must ensure that payments are fast, flexible, and secure.
Here are four ways you can improve your customer's experience using SeerBit payment solutions.
Provide multiple payment solutions and experiences
The way customers pay is constantly evolving. It's not enough for your restaurant to only accept cash and/or card payments. Restaurant owners must offer customers a variety of payment options so they can pay how they prefer, to enhance the customer experience and maintain a competitive edge.
Offering a variety of payment options ensures that your customers' needs are met, but more importantly, it ensures that your restaurant won't lose out on a sale. Imagine turning down a customer because you only accept cash or card payments. The customer will take their money somewhere else.
SeerBit helps you offer multiple payment options, like, card, bank transfer, USSD code, and others, to your customers, both online and offline, so you never have to lose a customer.
Accept pay by transfer
Many restaurants in Nigeria do not accept or have practical systems to manage bank transfers as a form of payment, despite the fact that 19% of customers in this poll said they preferred to pay by transfer (as opposed to 8.6% who said they prefer to pay in cash).
Customers who pay by transfer must wait for restaurant staff to confirm the payment, which takes a while because the confirmation is obtained either by calling a higher management staff member like the accounts or general manager or by checking with the back office. Delays in bank alerts can also be a problem. All of these factors go toward making the customer's experience unpleasant.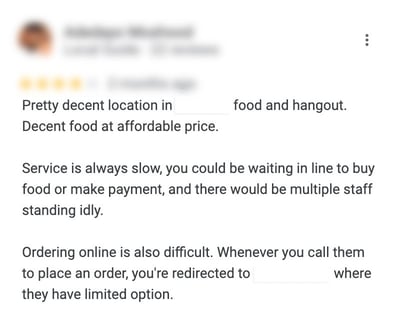 SeerBit assigns a reliable virtual account to your restaurant that customers can pay into. Staff can instantly confirm payments with the virtual account, without accessing sensitive information about the restaurant's finances. This greatly reduces payment wait times and provides your customers with convenience.
Invest in a reliable POS system
Given that the restaurant industry is expected to reach $22 billion in sales by 2025 and that technological advancements continue to have a significant impact on how people make and receive payments, choosing the right point-of-sale system for your restaurant has never been more crucial.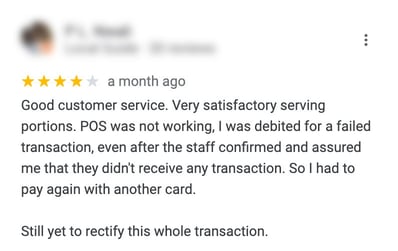 Keeping up with the latest POS system trends will ensure you have all the tools you need to give your customers a memorable customer experience.
SeerBit's POS is built for the modern customer as it allows you to offer the following payment options and enhance your customer experience:
Debit and credit cards
Bank account transfers
Bank USSD codes
Learn how to increase your sales with data you already have.
A key feature of the SeerBit POS is that when customers pay you with bank transfers, you can confirm it instantly on the POS. This eliminates the need for long wait times when trying to verify customer payments.
Invest in self-service technology
As mentioned earlier, self-service technology is fast becoming popular in the restaurant industry. Customers can interact with restaurants through various touch points thanks to solutions like tabletop ordering via tablets and self-service kiosks, among others, creating an engaging experience for them.
If you're a restaurant owner looking to gain a competitive edge, we advise you to invest in a self-service device and integrate payments into it to reduce payment wait times and provide your customers with a comprehensive, satisfying dining experience.
A SeerBit Checkout can be integrated into your self-service device so that customers can order and pay for their food directly from their table before being served by waiters.
Improving your customer's payment experience.
No matter the size of your restaurant, whether it's a small family-owned business or a large chain restaurant, there is no reason why customers should have a difficult time making payments. With SeerBit payment solutions for restaurants, you can accept the most popular payment methods while ensuring that your customers have a faster and seamless payment experience.
If you're ready to start accepting payments with SeerBit, you can sign up here. If you want to speak with us to learn more about how SeerBit can help your business, you can also talk to our payment advisors to learn more about how seerBit can help your restaurant