Technology
What's a virtual account and why you need it for your business
---
The recent change in Nigeria's cashless policy has resulted in significant changes in how businesses and customers interact. As a result of the policy, cash is scarce, prompting customers to use the next most convenient payment method, bank transfers. This has also forced businesses to adapt quickly, and businesses that previously refused to accept bank transfers now have no choice but to accept them or risk losing business.
Accepting bank transfers, on the other hand, presents a number of challenges, particularly for large businesses, enterprises, and multinationals with thousands of daily transactions, such as delays in receiving a transfer of value, increased time spent on payment reconciliation as accounting departments must spend hours combing through bank statements with a fine-toothed comb to ensure the expenses, credits, and debits all match up.
This process has a negative impact on business operations because it consumes time, requires effort, and produces inaccurate records, necessitating the use of a Virtual Account, which is an excellent alternative for quickly receiving, making, and tracking payments via bank transfers.
This article will explain what a virtual account is, the different types of virtual accounts, and why you should use SeerBit virtual accounts for your business.

What is a Virtual Account?
A virtual account is a temporary online bank account that transacts on behalf of a real, physical account, making payment collection and reconciliation easier for businesses. It differs from a traditional bank account in that it enables businesses to automatically track all payments made by customers via bank transfers in a more efficient manner.
Virtual accounts have a unique account number that allows for easy tracking of funds and identification of the source or payer. Businesses can also customize these accounts to their specific requirements and use them optimise their financial processes.
Let us look at the two types of virtual accounts, and explore their features.
Dynamic Virtual Account
This is a one-time use virtual account number that is tied to a particular transaction. It is a system-generated account number that allows you to receive a fixed amount of money once via bank transfer. It can only be used by one customer, and once the payment is confirmed, the account will expire.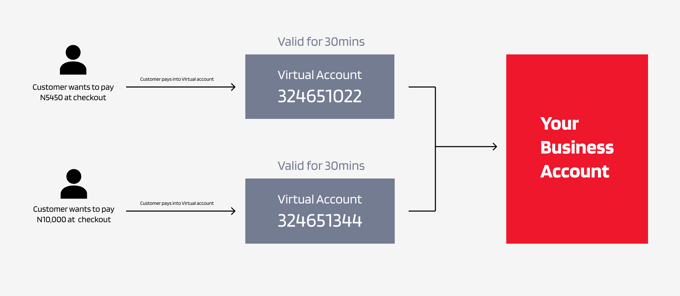 Example: When an online shopping platform or on-demand food platform allows customers to pay by bank transfer at the checkout, this type of virtual account is created via API and deactivated automatically once the payment is completed.
Static Virtual Account
This is a dedicated account number assigned to a company or customer that can be used to receive any amount of money over a long period of time and does not expire.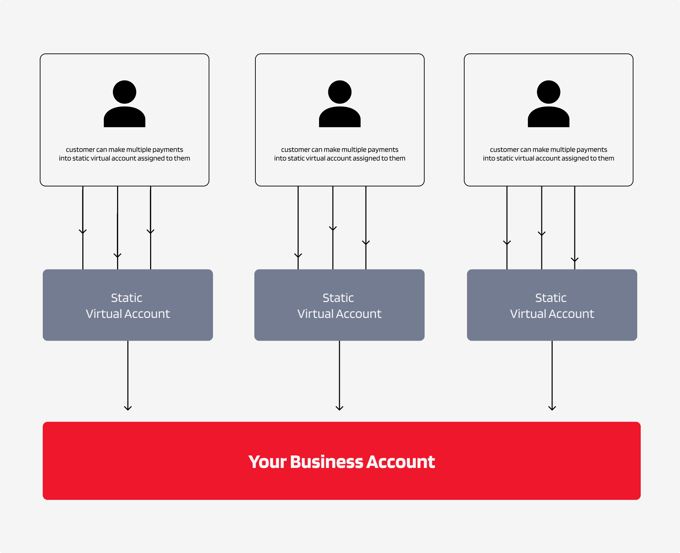 Example: When a digital savings app allows users to fund their savings wallets through bank transfers, the savings app creates a static virtual account for each user, and money is transferred from their bank account to their savings wallet via the virtual account, which is serviced by a payment service provider.
Difference between a virtual account and a traditional bank account
Now that you know what virtual accounts are, let's look at the differences between them and traditional bank accounts.
At first glance, virtual accounts are similar to traditional bank accounts, they have an account number and can move money, but that's not all, they both have features that differentiate them from each other.
Let us explore these differences in the table below.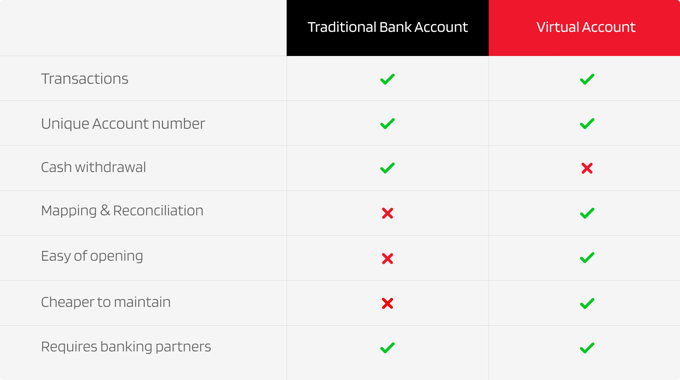 Why do you need virtual accounts for your business?
Many businesses in Nigeria are grappling with how to handle bank transfer payments as the country transitions to a cashless economy, including those in the FMCG, online marketplace, large enterprise, and FinTech industries, among others.
The total value of bank transfer payments increased to NGN2.3TN in January 2023, according to NIBSS, and is expected to rise further. Accepting bank transfers is a problem if your business has a high daily transaction volume because it requires you to manually reconcile individual payments, which can be overwhelming, time-consuming, error-prone, costly, and detrimental to your company's overall efficiency. These challenges have resulted in high demand for virtual account solutions in Nigeria's business landscape
Virtual accounts enable your business to accurately track and manage individual payments by automating the payment reconciliation process and operating in real-time, making them a highly efficient alternative to traditional bank accounts.

Benefits of using virtual accounts for your business
Virtual accounts provide several advantages that simplify payments and other transaction processes for both your company and your customers. By choosing the right virtual account service provider, you can optimise your business's use case and take advantage of the following benefits:

Automated reconciliation
One of the primary advantages of virtual accounts is automated payment reconciliation. This is especially useful for businesses that receive thousands of transactions per day, as payment reconciliation can become a tedious and time-consuming task when dealing with a large volume of transactions.
Virtual accounts solve this problem by automatically mapping all payment collections from multiple customers without the need for complex manual processes. This makes it easier for your business to keep track of transactions, saving you hours of manual work, reducing errors, and freeing up resources that you can channel to other areas of your business operations.
Lower transaction fees
Virtual accounts, as an alternative to payment gateway transaction costs, significantly reduce the cost of payment processing for your business. You can pay a flat fee for each transaction made with a virtual account rather than paying a percentage of the transaction amount as you would if payment was processed by a payment gateway. This low-cost solution is especially useful for high-value transactions and B2B payments.
Additionally, the operating and maintenance costs of a virtual account are significantly lower than those of a traditional bank account.
Streamlined operations
Virtual accounts give your company a centralised structure, which leads to increased transparency and control over cash flow and operational risks. With virtual accounts, you have greater visibility into where and how your money is flowing.
For example, it is easier to open hundreds to thousands of virtual accounts and manage them all from one location, whereas doing the same with traditional bank accounts is a logistical nightmare. As a result, it is easier for you to manage your finances and make informed decisions.
Improved customer experience
Virtual accounts allow your customers to make payments via bank transfer, giving them a payment option that they are already familiar with. By providing your clients with the option to pay via bank transfer, you provide them with a seamless, integrated, and accessible payment experience, which improves their overall customer experience and helps you gain a competitive edge, resulting in increased revenue and growth.
How can SeerBit virtual account help your business?
Nigeria's cashless policy has created difficulties for businesses, particularly in accepting bank transfer payments. However, because of our partnership with 9 Payment Service Bank (9PSB), Nigeria's leading payment service bank, SeerBit has one of the most dependable virtual account solutions on the market.
Here are some of the ways our virtual account API can help businesses manage their business finances more efficiently in Nigeria's rapidly evolving payment landscape.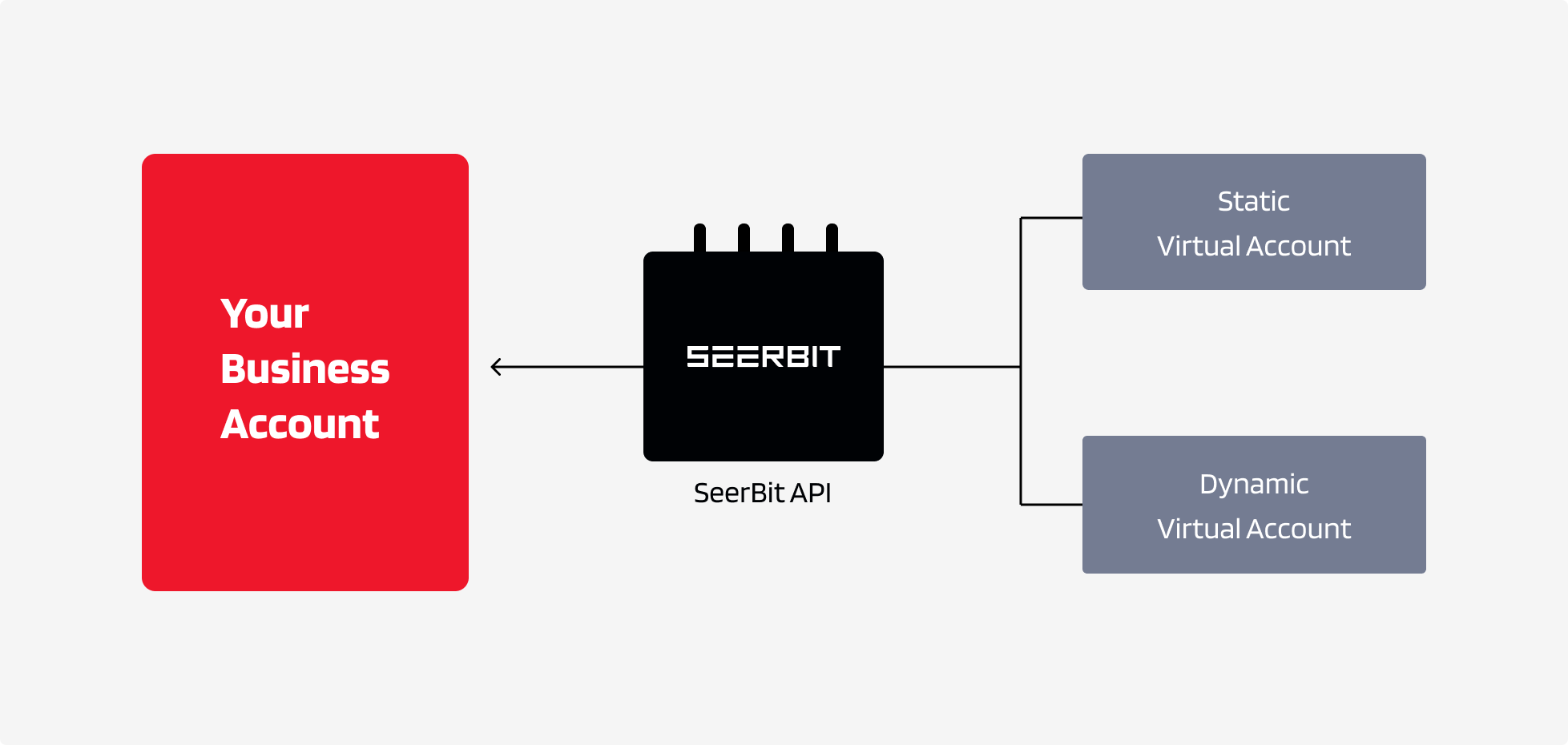 Automated Money Movement
To demonstrate, consider a digital marketplace that connects vendors and buyers, such as a food ordering app, ride-hailing app, or e-commerce platform. With SeerBit, you can automatically assign a unique dynamic virtual account to each customer at checkout, allowing customers to make payments through the virtual account and allowing you to easily account for every payment made to every vendor. And, with our Payout API, you can easily disburse funds to vendors on your platform, allowing you to move money in, within, and outside of your marketplace.
Offline Collections
For a variety of use cases, our virtual accounts also allow you to collect payments offline and in person.
For example, if you own a restaurant chain, you can assign static virtual accounts to each of your locations so that walk-in customers can pay for their meals with bank transfers, giving you better visibility into the finances of all your locations in one place. This use case is also similar to shopping at supermarkets and malls.
In the case of loan repayments, virtual accounts can be assigned to borrowers, who can then deposit cash into the account at their local cash agent, to enable them to complete their loan payments
Streamlined Finance operations
SeerBit Virtual Accounts enables you to manage all of your financial operations from one place. You can manage multiple virtual accounts, make seamless payouts, and better manage your float all from your dashboard.
SeerBit's virtual account solution also gives you access to detailed payment reports, which provide useful insights into payment trends, customer behaviour, and payment preferences. This data helps you manage cash flow more effectively, better understand your customers, and make more informed decisions for your business.